7 Factors To Consider Before Purchasing A Wall Mounted Air Conditioner
In a country like the Philippines, where tropical weather dominates, having an air conditioner is not just a luxury but a necessity. While there are various types of ACs available in the market, wall-mounted air conditioners have gained significant popularity due to their efficiency, design, and functionality. However, choosing the right one can be daunting. Let's explore the factors that should influence your decision.
1. The Types of Wall Mounted Air Conditioners
The foremost decision rests upon understanding the type of wall-mounted AC you need. Predominantly, there are three:
Traditional Wall-mounted Air Conditioners –

Integrated into an exterior wall of your home using a sleeve. These self-contained units are popular for their compact design.

Window Air Conditioners

– Although primarily designed for windows, homeowners often mount them on walls.

Ductless or Mini Split Air Conditioners –

Also known as heat pump mini splits, they connect to an outside condenser, and can be mounted both internally and externally.
What's appealing is that none of these require ductwork, making them ideal for homes without existing ductwork. However, each of these has its own pros and cons that you must weigh.
2. Brands Matter
It's important to note that not all cooling products are created equal. The market is flooded with various brands of wall-mounted ACs. At Anson's, while we highly recommend brands like Kolin for ductless options and LG for their range of cooling products, it's vital to select a brand known for durability, efficiency, and after-sales service.
3. Determine the Number of Units Needed
Wall-mounted ACs differ in their cooling expanse. While a single window AC might be apt for a bedroom, cooling an entire floor or house might require multiple units. With traditional wall-mounted ACs, you typically need distinct units for each room. On the contrary, with a heat pump mini split, one can be more strategic, such as placing a unit in a common area and using ductwork to cool adjoining rooms.
4. Price Considerations
Price becomes a defining factor for many. While standard wall-mounted designs and window ACs might seem cost-effective initially, investing in a mini split air conditioner often proves more valuable in the long run due to lower energy costs, extended lifespan, and enhanced home value.
5. Strategic Placement
Once you've zeroed in on the number, the next consideration is placement. Traditional ones need an exterior wall. However, ductless units offer flexibility. A general guideline is to position them two-thirds up the wall, ensuring there's a gap on both sides of the unit. Since they come with built-in thermostats, placing them away from drafty windows or heat-generating appliances ensures consistent temperature readings.
6. Aesthetics and Style
Gone are the days when ACs were bulky, box-like appliances. Today, from the sleek black designs to ones resembling framed art, there are styles to complement every interior. While standard wall-mount ACs might offer limited aesthetic appeal, the newer ductless versions bring in an array of design choices.
7. Need for Optional Heating
While many in the Philippines might prioritize cooling, there are wall-mounted ACs with optional heating. Some traditional units, especially in the hospitality sector, come with built-in electric heaters. If you opt for a mini split air conditioner, you can incorporate heating with a slight price addition. For those seeking efficient heating even during colder days, upgrading to a hyper heat condenser is worthwhile.
Some Air Conditioners We Recommend
1. Carrier WCARJ012EEV 1.5 HP Window Type Airconditioner

The Carrier WCARJ012EEV is a 1.5 HP Aura Inverter Window Type Airconditioner, equipped with R410A Refrigerant for optimal cooling. Boasting a high EER due to its Inverter Technology, this model combines efficiency with a sleek, modern design.
Additional features include remote control, energy-saving plug, a 24-hour timer, econo and sleep mode, and a remarkable 8-in-1 filter technology for enhanced air quality.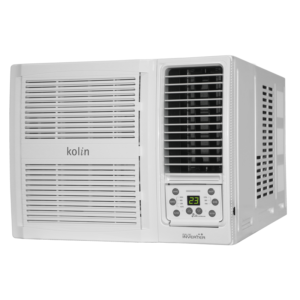 2. Kolin KAG-100WCINV 1.0 HP Window Type Airconditioner

The Kolin KAG-100WCINV 1.0 HP Window Type Airconditioner boasts a Full DC Inverter for efficient energy consumption. Featuring Blue Fins and R32 Refrigerant, it guarantees quick cooling with a high EER. The soft touch panel enhances user experience, while the multi-stage air filtration with a filter dirty alarm ensures optimal air quality.
Additional features like horizontal auto swing, self-diagnosis, precise control, wide voltage range, and a soft start-up highlight its technological prowess.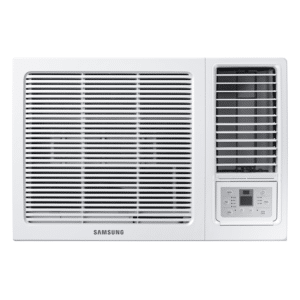 3. Samsung AW12AYHGAWKNTC 1.5 HP Window Type Airconditioner

The Samsung AW12AYHGAWKNTC offers a robust 1.5 HP Window Type Airconditioner, enhanced by Digital Inverter Technology ensuring energy efficiency and fast cooling.
Prioritizing health, it's equipped with an Anti-Bacterial Filter, and for added convenience, it boasts features like Auto Mode, Dehumidifier, and a Timer. Sleep Mode ensures a comfortable environment at night, while the Dirty Filter Alarm and Soft Start Mode ensure longevity and smooth operation.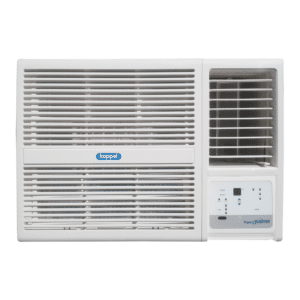 4. Koppel KV12WR-ARF31 1.5 HP Window Type Airconditioner

The Koppel KV12WR-ARF31 1.5 HP Window Type stands out as a Super Inverter Airconditioner, ensuring energy efficiency with its DC Inverter Compressor, Fan Motor, and Module. Designed for health-conscious users, it includes an Anti-Bacterial Filter.
Its commitment to the environment is underscored by the ECO-Friendly R32 Refrigerant. With the innovative 3DC Inverter, this unit guarantees optimized cooling performance while conserving energy.
Use Our Tips To Help You Purchase an Air Conditioner
Choosing a wall-mounted air conditioner is a significant investment and should be made judiciously. By considering the type, brand, cooling capacity, number of units, price, placement, style, and optional heating, you can tailor your choice to your needs. 
Whether you're prioritizing aesthetics, functionality, or both, Anson's offers a range of cooling products that combine the best of these worlds.
With the right guidance, your new wall-mounted air conditioner will not only be an appliance but an enhancement to your home's comfort and design. Browse our range of air conditioners in our online store, or shop in store for more information.