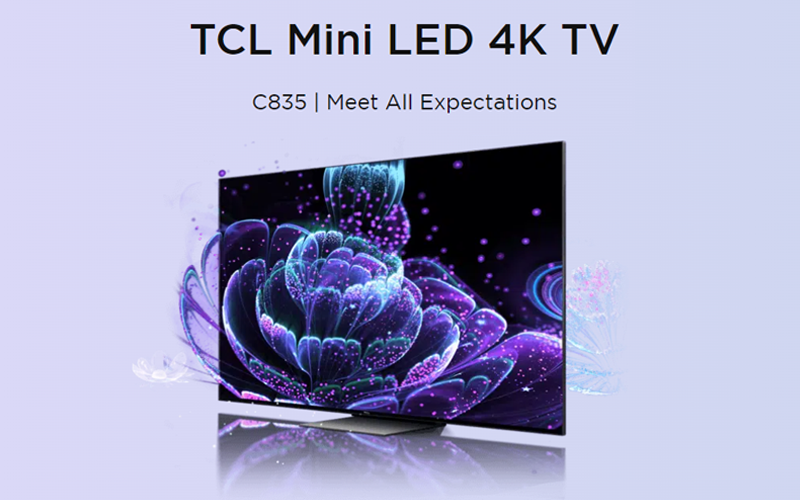 The TCL MiniLED TV C835 in front of you is an all-round TV to meet all your expectations. Profiting from Mini LED local dimming and 144Hz high refresh rate screen, there are no annoying tearing and stuttering. Plus, the professional ONKYO sound system with Dolby Atmos is here to spoil your ears. Just relax in the cozy sofa, grab yummy crunchy popcorn, and soak yourself in a movie night.

16-bits Precise Light Control
With 16-bits control core for every independent pixel-sized LED, display has been greatly revolutionized! Each emitting unit is precisely controlled to deliver deeper black and purer white, ensuring every realistic picture is presented.
Clear and Pure Color from Any Angle
It would be annoying when uneven backlight, or known as clouding and blooming,  happens on your TV. Mini LED technology may be the only solution to it! TCL Demura Tech ensures an accuracy of light control. From any angle, it is visually clear as it should be.
Mini LED Meets Quantum Dot
Pure, ultra-high definition TV is filtered through a layer of over a billion Quantum Dot nanocrystals. A combination of leading technologies improves brightness, reaches higher contrast and achieves superior color precision.
Quad Core Processor 4K
A chipset enabled TCL algorithm processes contents in real time, detecting environment and upscaling display and audio. Pictures are optimized according to contents. You will see bluer ocean and lusher rainforest.
Aesthetical Design Fits Every Space
With bezel-less and slim appearance, C835 can perfectly fit into your space, highlighting your home just like a masterpiece of artwork.