Take Awesome Day and Night Photographs, Enhanced With Creative Editing Tools
The Galaxy A34 5G delivers stunning images with clear quality even in bright conditions, making use of Samsung Galaxy's leading Nightography and AI capabilities. Whether users want to capture the perfect selfie or connect through super-smooth video calls, the Galaxy A34 5G offers astonishing detail thanks to its 13MP front camera.
The new smartphones produce video with amazing clarity, combatting shakiness and blur with improved optical image stabilization (OIS) and video digital image stabilization (VDIS). Even with unsteady hands or when filming on the go, users can be confident about capturing awesome content. For adventures after dark and in low light conditions, Night mode helps users to capture more detail by broadening the camera's pixel size.
Multi-cameras. More perfection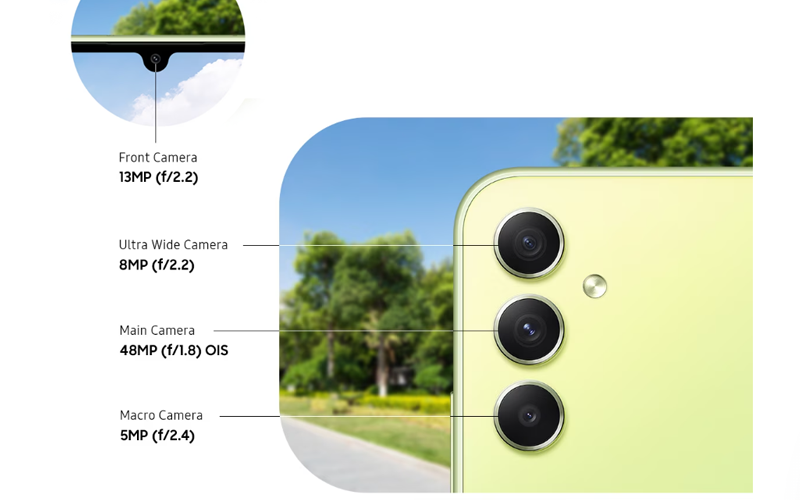 Stay Connected Without Compromising Security
Enhanced mobile experiences rely on advanced security. With Samsung Knox, data is kept under lock and key with defense-grade mobile security. The Galaxy A34 5G gives users access to the Security and Privacy Dashboard, which makes it easy to see how apps are tracking data and enables simple ways to stop unwanted data collection. When users want to share important files that contain sensitive or personal information with the ultimate level of privacy and control, there's Private Share. This enables users to share files only to designated recipients within time limits and with screenshots disabled.